Home
Welcome, Your San Marco California Chiropractor!
Discover Top 4 New Patient Concerns;
And the Most Effective Chiropractic Treatments to Relieve Your Pain, Reduce Your Muscle Spasms and Increase Your Mobility Fast!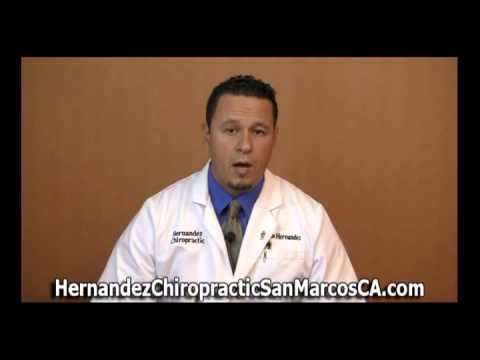 Phone: (760) 591-4878

What is my problem?

Can you help?

How long will it take to feel better?

How much will treatment cost?
1. What Is My Problem: On your first visit to Hernandez Chiropractic we will perform a consultation and examination to determine the problem.
If we find your problem is not one in which chiropractic can help we will refer you to the proper specialist in the San Marcos California community.
2. Can We Help: At the end of the consultation and examination we will have a pretty good idea of what the problem is and if chiropractic care can help.
If this is the case we will share with you all our findings and all treatment options prior to initiating care.
3. How Long Will it Take to Feel Better: If we find you have a condition chiropractic can help we will start the process of relieving your pain.
The appropriate therapy will be dependent on your condition. Rest assured we will start the process of getting you pain free as quickly as possible.
4. How Much Will It Cost: Prior to any treatment our staff will discuses all possible cost issues. If you have health insurance our staff will verity your chiropractic benefits and share your chiropractic coverage.
We understand that if you have never been to a chiropractor in San Marcos California and you may be apprehensive with additional questions. You can be assured our doctors and staff at Hernandez Chiropractic will share with you all relevant information to ease your concerns.
Cost and Insurance FAQ:
These Are The Most Frequently Asked Cost and Insurance Questions.

Are you on my insurance plan?

What does the treatment cost?

What does my insurance cover?
1. Are We On Your Insurance Plan: At Hernandez Chiropractic in San Marcos CA we will accept most insurance including major medical, medicare, accident injury and workers compensation.
2. What Does The Treatment Cost: These are the 5 patient financial categories.
Health Insurance: Payment with insurance will depend on that particular policy co-pay or deductible and they all vary.
Medicare: Medicare and Medicaid insurance covers chiropractic care with limited benefits. However the co-pay and deductibles are relatively low.
Accident Injury Insurance: Accident injury insurance for the most part covers chiropractic care with little to no patient out of pocket expense.
Workers Compensation: If you have been injured while on the job, your work insurance policy will cover our chiropractic treatments. A workers compensation injury is covered at 100%.
Cash: Cash patients can receive a time of service discount, payment plans and discount plans.
3. What Does My Insurance Cover: Your chiropractic care benefits will be verified upon your first visit. All polices vary and would have to be individually verified. Our staff at Hernandez Chiropractic in San Marcos California will verify your chiropractic coverage in one brief phone call.
Appointments Available Daily!
Phone: (760) 591-4878
Conditions Which Respond To Chiropractic Treatment:
• Back Pain • Disc Bulge • Disc Herniation • Sciatica • Scoliosis
• Neck Pain • Pinched Nerves  • Carpal Tunnel Syndrome
• Auto Injuries • Whiplash Injury • TMJ Pain
• Tension Headaches • Stress Headaches • Migraines 
• Bursitis • Tendinitis • Muscle Pain
• Frozen Shoulder • Knee Pain • Foot Pain
• Tingling or Numbness in Arms or Legs 
• Chronic Pain Conditions • Fibromyalgia • Joint Pain • Arthritis 
Hernandez Chiropractic Treatment Options:
Chiropractic Spinal Manipulation: Perform chiropractic adjustments by hands or a device to apply a controlled force to a joint of the spine, moving it beyond its passive range of motion.
The goal of chiropractic treatment at Hernandez Chiropractic in San Marcos California is to relieve nerve pressure and pain, increase joint mobility and relieve associated muscle tension.
Massage Therapy: Massage therapy is the manual working of the muscles to relieve pain, relax muscle tension and increase mobility.
Massage therapy used in conjunction with chiropractic manual therapy offers some of the most effective treatment for the relief of pain and restoration of joint motion.
Electrical Nerve and Muscle Stimulation: Electrical Muscle Stimulation is a mild form of current which is applied to the painful and injured area.
Some of the beneficial effects of electrical muscle stimulation therapy are:
Reduction of the pain signal
Decrease inflammation
Relieve muscle tension
Ultrasound Deep Heat Therapy: Therapeutic ultrasound is a form of therapy which applies sound wave deep into the injured and painful area.
The benefits of deep heating ultrasound therapy are:
Reduction of inflammation
Relaxation of muscle tension
Increased healing
Spinal Decompression Therapy: Spinal decompression therapy is a FDA cleared therapy specifically for the reduction of disc bulge or disc herniation.
Spinal decompression therapy gently separates the spinal vertebrae creating a negative pressure which pulls the disc bulge or disc herniation into the disc.
The primary benefits of spinal disc decompression therapy include:
Reduction of painful disc bulge or disc herniation
Disc bulge or disc herniation reduction
Decreased the likelihood of spinal surgery
Intersegmental Traction: Inter-segmental traction therapy applies passive motion into the joints of the spine.
This passive motion to the spinal allows for:
Reduction of spinal pain
Increased spinal mobility
Decreased muscle tension or spasms
Rehabilitation: Rehabilitation is using physical medicine such as active and active therapy to increase the injured tissues strength and elasticity. Rehabilitation prevents or lessens the likelihood of recurrence.
Office Hours:
Monday: 9:00am – 6:00pm
Tuesday: 9:00am – 6:00pm
Wednesday: 9:00am – 6:00pm
Thursday: 9:00am – 6:00pm
Friday: 9:00am -6:00pm
Closed Saturday, Sunday
Office Location:
Call: (760) 591-4878
Hernandez Chiropractic
1125 Linda Vista Dr., Ste. 102
San Marcos, CA  92078